Artists Shine In Works Rugged to Muted
By Victoria Donohoe
Inquirer Art Critic
Brian Dickerson and Sarah Bowen, exhibiting their paintings in tandem in a show at West Chester University, both approach their subjects as if from a great distance in time. And each of these college art teachers- he at Drexel University, she at Vermont College- besides having a distinctive personality and approach, thinks of art as transformation and as self –discovery.
Mystery abounds in the rich and intriguing imagery of Dickerson's three-dimensional abstractions painted on his wooden constructions.  The most striking of these were inspired by his boyhood recollection of attending the excavation of an ancient settlement site of the Owasco Indians, ancestors of the Iroquois, near his family home in New York's Helderberg Mountain region, near Albany.
Besides Dickerson's work being more directly physical and rugged than Bowens and having  a typically muted palette, w look at these "Helderberg Paintings" as if suddenly we see the subtleties that the weathering of time produces even in the most mundane of surroundings.
Some of the individual pieces in this series stand out.  But that's hardly the issue.  What matters is the visual aggregate, the mass of material.
These are works that, for the most part, speak directly to the emotions.  At their best, the shapes are dense and considered; they have impact and complexity, this Philadelphia artist tempting the viewer to follow the unexpected twists and turns of his handling of the painted wood.   The interplay here is between geometry and instinct.  There's an evident will to maintain a high degree of casualness as well as to elaborate and embellish.
By Contrast, Bowen of Northern Vermont is an artist who has gone her own quiet way.  And this show gives insights into her developing work, especially her fine color resonances.  Tenderly and carefully done, her paintings on paper have a tonic effect on frayed nerves.   I especially like the way she allows color areas to find their own tremulous shapes.  This quiet little gem of an exhibit will travel.
The Philadelphia Inquirer
Sunday, November 26, 2006
Shows at Seraphin Gallery
Brian Dickerson's rugged, mysterious sculptural paintings
By Victoria Donohoe
For The Philadelphia Inquirer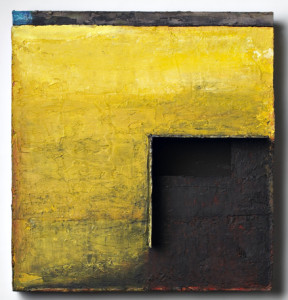 The wonder of Brian Dickerson's recent rugged 3-D paintings on wood in his solo "Constructed Paintings and Drawings from Ballinglen" at Seraphin Gallery is the immediate sense of quiet and mystery they impart. While he was, of course, informed by the remote, artist-friendly locale in northwest County Mayo, Ireland, which he expects to visit again next fall, Dickerson's original inspiration was the excavation of an Owasco Indian settlement he watched at age 13 near his childhood home in upstate New York – the colors of the layered soil, the wooden grids, the hidden artifacts.
This Philadelphia painter favors dark, all-over earthen incrustations in the many sculptural works here, some of them with their scratched, picked-at surfaces. Such slowly made painted pieces are often divided vertically into two unequal registers, each filled out with recessed compartments. Some are commanding, both in size and in refusal of easy solutions, and possess a resolute strength. There's a certain amount of painterly expressionism in such work, often including a small zone of bright color. But Dickerson's work tends to be largely monochromatic.
A painter's drawings often bring us closer to the artist, especially if his drawings simply record more personal preoccupations. And that's what Dickerson's individualistic graphite drawings, not directly related to his painted pieces, achieve. A handsome show.
The Philadelphia Inquirer
April 27, 2012